Boonetown BBQ Catering Company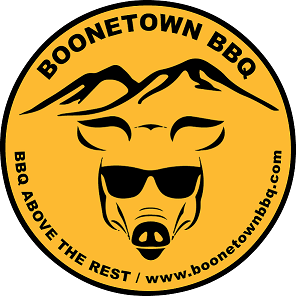 Boonetown BBQ provides full service BBQ Catering, Sauces and Rubs. HQ in Boone, NC.   Our Pitmasters serve up Eastern North Carolina BBQ above the rest!  Excelling at BBQ Catering for weddings, family reunions, corporate events, tailgates and festival vending.
We hear all the time "it is so hard to find great BBQ in the mountains",  look no further we have been vetted by some of the toughest judges of BBQ in America.  We can be found in competitions around the south serving up our Grand-champion Professional BBQ.  Actively competing in the Carolina BBQ League, KCBS and MBN circuits we have found a great deal of success competing in Whole Hog, Shoulders, Chicken, Ribs and more!
The difference is it is all homemade.  We make our own sauces, rubs and injections taking the time to make sure our meat is seasoned properly and slow smoked for irresistible flavor.  Our sides are just as special serving up old North Carolina family recipes dating back decades.
Boonetown BBQ
Jeff Lamont
704-575-0808
info@boonetownbbq.com